Sunless Tanning Lotion Dark Sunsation Bundle | Sun Laboratories |
SUN LAB DARK SUNSATION 32 oz AND 4 oz SELF TANNING LOTIONS
with FREE Dark Strictly Faces, Exfoliant Body Scrub 2 oz, Latex Gloves and Giselle Mocha Magic Bronzer
This Bundle will include:
1- Dark Sunsation 32 oz Self Tanning Lotion ( Very Dark ) 
1- Dark Sunsation 4 oz Self Tanning Lotion ( Very Dark )
1- Dark Strictly Faces
1- Exfoliant 2 oz Body Scrub
3- Tanning Stickers
1- Giselle Mocha Magic Mineral Makeup Bronzer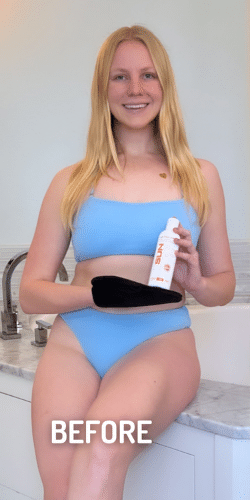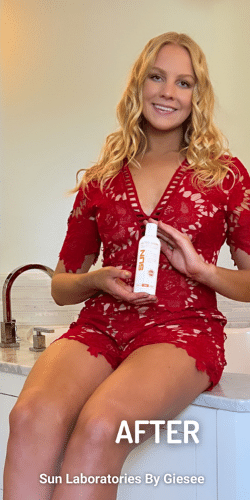 DARK SUNSATION
About the product:
FORMULATED WITH A NATURAL BLEND OF INGREDIENTS - We have searched the farthest regions of the world for this natural, paraben-free blend of ingredients. This product provides your skin with the most natural-looking, best tan possible, but also nourishes, revitalizes, hydrates and enhances the feel and elasticity of your skin. Because no matter how great your fake tanning lotion works, if your skin isn't ultra smooth and sleek, you won't achieve a flawless look.
CELEBRITIES LOVE IT; DOCTORS RECOMMEND IT Sun Laboratories Sunless Tanning lotions (also referred to as self-tanners) require no exposure to the sun. Growing evidence shows the multitude of damage sun exposure can do both short-term and long-term. With the self-tanner for pale, light, or medium skinned people, you need not worry about negative side effects. This quick tan self tanner ensures a rich glow that is natural and safe.
GLOWING FROM THE INSIDE OUT Have you ever noticed that when someone feels and looks great, they just glow? Sure it could be that they've lost weight, or are in love, or just have that confidence we all yearn for. But maybe it's as simple as they've tried the Sun Laboratories Self Tanning Product and now they look slimmer, darker, and more radiant - thus they are glowing from the inside and out!
YOU GLOW, GIRL Whether you are new to sunless tanning and sunless bronzers or you have been mastering the self tanning art for years, Sun Laboratories Sunless Tanning Lotions, Micro Mists, Foams and Sprays are ideal for all skin types and will provide you with the perfect tan that you desire. No streaks or blotches, all you are left with is golden skin and something to brag about to all your friends.
EASY TO APPLY Application instructions are provided with each Sun Laboratories Sunless Tanning Product, as well as placed into the description of this product at the bottom of this page to insure you get the best self tanning experience possible. You're life is full of activities, chores, and responsibilities. No need to add any more nuisances to your day, which is why we made a fake tanner that is easy and quick to use. It is also not just a sunless tanner for women, but men as well!


Directions: Sun Self-Tanning Lotion Dark Sunsation Instant Tint - Very Dark 8oz 

Smooth evenly over face and body. Color is instant and will intensify in three hours. To avoid discoloring palms, wash hands with soap and water immediately after use. Wait at least one hour after use before contact with water or bathing.
Before and After Photo
VIDEO: